Scott Hurwitz defended his proposal in October 2017.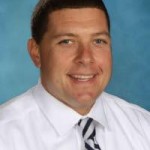 Dr. Cobb is his major advisor, and Drs. Woulfin and LeChasseur are his associate advisors. His capstone research proposal examines the how and to what extent school leaders frame policy with a specific focus on Connecticut's anti-bullying policy. He will also study the factors that shape how leaders frame their policy messages.
After graduating from the IBM program at the University of Connecticut, Scott spent five years teaching history and social studies at the middle school and high school level for Glastonbury Public Schools. Following this, he served five years as an assistant principal at Gideon Welles School in Glastonbury where he is currently the middle school principal.
Congratulations Scott!